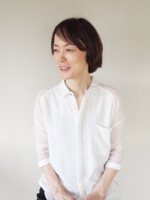 Profile
yumico lucau Jewelry designer
東京生まれ。ペンシルバニア大学経営学修士取得後、ニューヨークの金融機関で働きながら、Studio Jewelers Ltd.で彫金を学ぶ。上質な素材を用いて、オリジナリティを大切にしたものを身につけたいとジュエリーを作り始め、2015年にyumico lucauとしてブランドをスタート。
現在は香港と東京を行き来しながら、女性の美を育む品格と遊び心を併せ持つジュエリーを創作する。

Born in Tokyo, designer Yumico Lucau began creating fine jewelry because she wanted to wear unusual, original pieces crafted from the best quality materials. The response to her jewelry was immediate, and she launched her yumico lucau brand in Tokyo in 2015.

Yumico has an MBA from the Wharton School of the University of Pennsylvania and learned jewelry making at Studio Jewelers Ltd. in New York. She resides in Hong Kong. Her graceful and playful jewelry compliments the feminine in every woman, while quietly displaying to the world that its owner wears only the very best.